Kashmir tours can be equaled with visiting paradise for this beauteous locale in Northern India is blessed with heavenly natural beauty and divine serenity. The picturesque hills of Kashmir are where Buddhist lamas and Mughal emperors found peace. Great Mughal emperor Jahangir thus tagged valley of Kashmir the ultimate "Paradise on Earth". Honeymooners, nature and architecture lovers, and families all kinds of travelers love to set on tours to Kashmir and once here they fell in love with its pictorial landscapes, flower beds, colorful gardens, misty mountains and snow-capped peaks, soothing houseboats, rich cultural heritage and romantic lakes.
Even adventure-enthusiasts cannot resist the impulse to set out on Kashmir tours and snow desert of Ladakh in the state of Jammu and Kashmir. Barren, isolated and almost surreal Ladakh avails opportunities to practice adventure sports such as mountain climbing, trekking and more. Experiences that should not be missed on the tour to the region include:
Ladakh Sojourn:
Bounded by snow-clad mountains and walls of rock and ice Ladakh is a barren land with restricted strips of greenery by the rivers. Glaciers, icy mountains, beauteous rivers, barren landscapes and much more, Ladakh is a world of paradoxes. It remains aloof from the rest of the world from November to May for its uncertain weather gets unbearable at times however, the summers bring lots of opportunities to enjoy adventure sports such as trekking and mountaineering. Ladakh then opens its most challenging trekking routes for the adventure-enthusiasts.
Splendid Dal Lake & Soulful Shikara Ride:
Pictorial Dal Lake is indeed one sight that truly soothes eyes of onlookers. Crystal waters of the romantic lake are perfectly coupled with a backdrop of lush green valley and gorgeous Mughal Gardens on each side. To bask in the beauty and splendor that surrounds board a Shikara (traditional houseboat) and glide slowly on the waters for a royal essence of Kashmir tours. Ranging from basic Shikaras to luxurious houseboats one can choose any for a tranquilizing experience. Get friendly with locals passing by on Shikaras selling exotic flowers and fruits.
Stroll at Spectacular Mughal Gardens: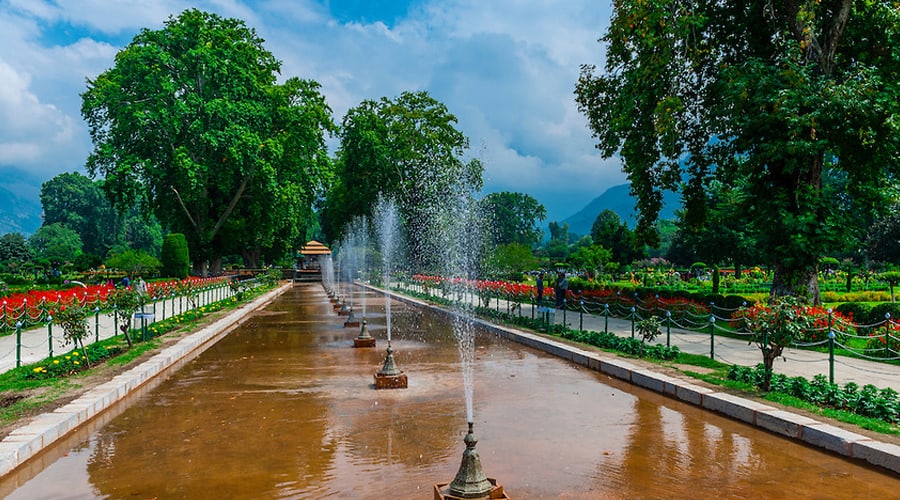 Kashmir's angelic beauty can be best explored at the gorgeous Mughal gardens nestled on the banks of Dal Lake. The garden on the right bank of the lake is named Shalimar Bagh and was built by Mughal Emperor Jahangir in the year 1619 for his wife Nur Jehan. The garden on the left bank of the lake is named Nishat Bagh which means Garden of Joy or Delight. The parks are great specimen of zenith that Mughal horticulture had achieved during the princely era. The beautifully laid gardens are embellished with pristine water bodies and water fountains which together looks heavenly.
Blossoming Kashmir impresses all with its blissful self and stunning panorama. On Kashmir tours one should be prepared to experience a divine presence amid natural splendor. Soak in the tranquility and solace that surrounds and surrender to the comfortable lap of Mother Nature for a rejuvenating and revitalizing touring experience worth remembering.