Goa Hotels
Best of the Goa hotels are found at the coastal region of this fabulous beach town. Sunny beaches of Goa of all the beaches in India are renowned for their afternoon siesta and groovy beach parties. Fun galore in Goa every evening and brings an eclectic party scene less seen at other beach towns in India. There is infinite number of low budget as well as luxury hotels in Goa which keeps on introducing special packages for the benefits of the aspiring vacationers. Shopping and partying are indispensable parts of this sui generis city and on your stay in one of these hotels in Goa you must not miss out on these measures of recreation.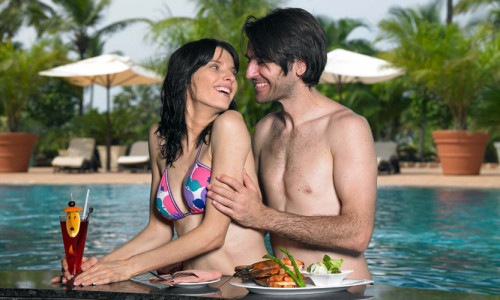 The Zuri White Sands, Goa Resort & Casino is a reflection of everything Goa is, and more.
Hotels in Goa
Presence of a multitude of accommodation options avail a great choices to the weary traveler and Goa does just that. The emblazoned luxury hotels in Goa are ideal for rich gentry who cannot compromise with comfort and style. While the back-packers and economy or budget class travelers can easily find their way up to the three star or budget category hotels in Goa. To revive the mood one should check out water sports at the breezy beaches where fun suntan comes for free. When you plan to stay at Goa hotels be prepared for an exciting and comfortable stay that awaits your arrival.